OIL CHANGES IN TEMECULA, CA.
Are you looking for an oil change in the Inland Empire? At So Cal Auto Style, we perform quick, convenient oil change services for nearly all vehicle types.
Enter your information below to receive a detailed quote. We will contact you as soon as possible.

Deanna B.
"Top notch service! I will be taking all of my vehicles for any maintenance or upgrades."

Brandon R.
"These guys are solid. Great reliable work. Definitely happy with the outcome."

Cassandra T.
"Their customer service was amazing. I was in and out within an hour."
Not all oil change services are created equally. We designed our oil change service as a comprehensive, yet efficient way to maintain and understand your vehicle's condition. Using manufacturer recommended conventional, synthetic-blend, or full synthetic oil, our oil change services include the following:
Top-Rated CarFax Service Center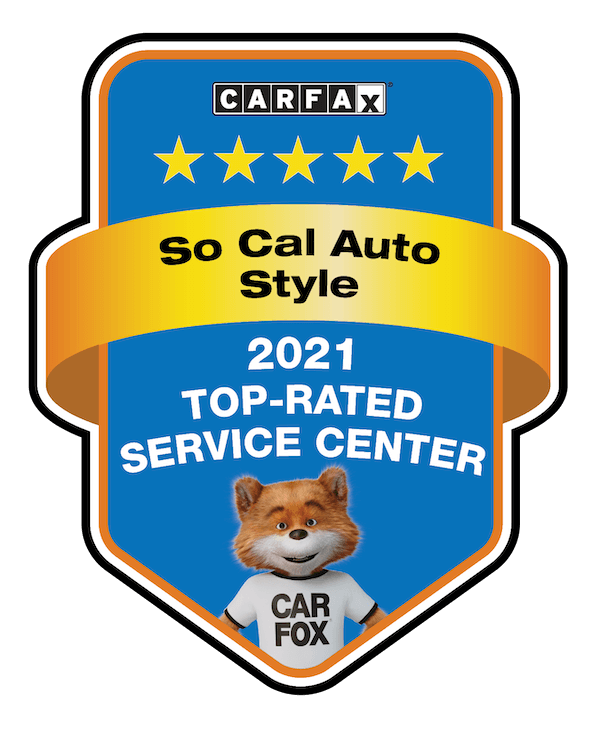 Have questions about changing your oil? We've got answers.
Depending on the year, make, & model of your vehicle, the manufacturer may recommend oil changes as often as every 3,000 miles, but many will recommend a longer interval due to advancements in oil chemistry and vehicle technology.
In many cases, you may only need an oil change every 5,000 – 8,000 miles. For more accurate oil change intervals recommended by your vehicle's manufacturer, feel free to ask our staff at the time of your oil change service or check your owner's manual.

Frequently driving beyond the vehicle manufacturer's recommended mileage interval between oil changes will shorten the life of your engine. Neglecting oil changes entirely can lead to engine failure, as engine components will wear out without the lubrication and heat transferring properties offered by fresh engine oil.
There are 3 primary types of engine oil: conventional, synthetic-blend, or full synthetic.
Conventional oil, adequate for most vehicles, offers some protection against deposit build up and viscosity break down.
Synthetic-blend (or high-mileage) oil contains a blend of conventional and synthetic oils chemically engineered to extract more impurities than a conventional oil alone.
Full synthetic oil is considered by many to be the best type of oil to put in your vehicle. Many synthetic oils feature superior cleansing properties which help keep your engine cleaner.
SUPERIOR PROTECTION

Features superior cleansing properties using advanced chemistry that will keep your engine cleaner.

NEW OIL & FILTER

FULL SAFETY INSPECTION

TIRE ROTATION
BETTER
Synthetic Blend Oil
ADVANCED PROTECTION

Contains a blend of conventional and synthetic oils chemically engineered to extract more impurities than a conventional oil alone.

NEW OIL & FILTER

FULL SAFETY INSPECTION

TIRE ROTATION
STANDARD PROTECTION

Offers moderate protection against deposit build up and viscosity breakdown.

NEW OIL & FILTER

FULL SAFETY INSPECTION

TIRE ROTATION